COVID-19 Vaccination General - Frequently Asked Questions
V5 – 17.03.21
Which surgeries are part of the vaccination campaign taking place at Oaklands?
Oaklands Health Centre is part of a Primary Care Network (PCN) that includes –
Sun Lane Surgery
White House Surgery
Harbour Medical Practice
Hawkinge and Elham Surgery
New Lyminge Surgery
The Surgery, Lyminge
Patients from across these 7 practices will be invited in to receive their vaccination at Oaklands Health Centre, the designated site for this area.
The service being delivered by Oaklands is also receiving a significant amount of support from Age UK. 
How are the vaccination clinics being booked?
Oaklands is using a system called Accurx that sends a text message to a patient allowing them to book an appointment directly.  If a patient does not respond to the message or does not have a mobile number then Oaklands will ring them directly
What happens if I miss the call?
Oaklands has a number of staff dedicated to booking patients.  We will ring patients repeatedly until their appointment is successfully booked. No patient will be excluded unless they specifically state that they do not want to receive the vaccination.
What happens if a patient declines the vaccination and then changes their mind?
The patient will be added back onto the list and an appointment will be arranged.
How many vaccinations have been delivered so far?
December - 1167 patients vaccinated
January – 6117 patients vaccinated
February – 6372 patients vaccinated
March – 640 patients vaccinated so far
A total of 14,296 vaccines have been given to date (16.03.21)
What vaccine sessions are currently being booked into?
1st Dose – 1200 patients currently being booked for 1st dose
2nd Dose – 2500 patients currently being booked for 2nd dose
How are patients prioritised?
Public Health England have prioritised patients into the following risk groups -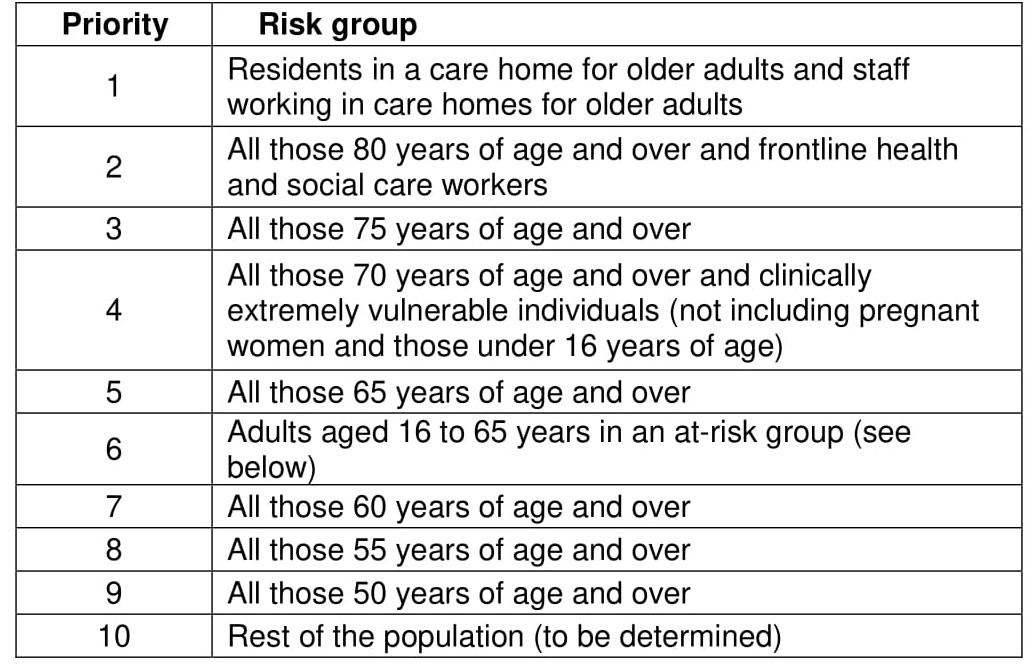 Which groups of patients have been invited / seen so far and which groups of patients will be invited next?
Patients may have received an invite for the vaccination from both Oaklands and the mass vaccination site in Folkestone (Debenhams).  Please do not double book appointments.  Choose the best option for you and disregard the other invite.
Priority groups 1 to 4 & 6 (not including group 5)
There are a total of 17,983 patients within these Priority Groups and currently 15,113 have been vaccinated – 84%
Priority group 5 -  All those aged 65 and over
The original instruction from the NHS was for all PG5 patients to been seen at a Mass Vaccination Centre and that they would receive a central invite letter. Oaklands is now also able to invite patients in this group who have not yet received a vaccination
There are a total of 3052 patients within this Priority Group and currently 2786 have been vaccinated – 91%
What is the timeline for vaccinating the different priority groups of patients?
On average Oaklands, with the support of the PCN, is delivering approximately 1200 vaccinations per week.  We believe there is capacity to increase this to 2000 per week at very short notice and have made sure the NHS is aware of this.
At this stage Oaklands is not able to place an order for the vaccination and instead has to wait to be informed that a delivery has been scheduled.  Oaklands has no influence over the timings of those deliveries or the amount of vaccinations that are received.  This is decided centrally by either NHS England or Kent and Medway CCG.
When will I receive the second vaccination?
The guidance from NHS England is that patients should receive their second dose of the vaccination at 12 weeks from the date of the original.
Oaklands Health Centre will ring patients to book the second dose.