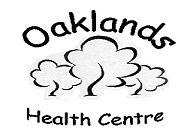 OAKLANDS HEALTH CENTRE
FLU CAMPAIGN 2023/24
SAVE THE DATES
Under 65s at risk: Tuesday 10th October
Over 65s: Saturday 7th October
Please see the following information regarding this season's flu campaign at Oaklands Health Centre:
Patients eligible for a free flu vaccination will be given a time slot to attend on one of the above dates.  Please only attend the date and time slot allocated to you to avoid overcrowding in the surgery. 
Eligible patients will receive an invitation via either text message or letter.  Please bring this to show a member of staff on the day.  The invitation is only intended for the named person on the letter or text message, so we kindly ask that this is not forwarded to anyone else.  
If you are unable to make the date allocated to you, you do not need to let us know that you unable to attend as there will be appointments to book in one of our catch up clinics.  These appointments will be available to book after the walk in clinics have taken place.  
If you are housebound, we will contact you to arrange for one of our nurses to administer the vaccine to you at home. 
Please note, covid vaccinations will not be administered during the flu clinics.
The vaccination is free and recommended yearly for those most at risk from flu. This includes:
· children aged 2 to 3 years old on 31 August 2023
·  pregnant women
·  people living with certain long-term medical conditions
·  everyone aged 65 years and over
·  people who receive a carer's allowance, or are the main carer for an older or disabled person who may be at risk if the carer gets sick
·  close contacts of immunocompromised individuals
Primary school aged children and secondary school children in Years 7 to 11 will be offered the vaccine at school. If there is someone you rely on to care for you, please ask them to contact their own GP Practice as they may be eligible for a free flu vaccination.
Please note patients aged between 50-64 who are not in any clinical risk groups will not be eligible for a flu vaccination this season, as they have been in previous years.
Published: Aug 17, 2023